Uzbekistan e-Visa Application
Uzbekistan e-Visa: Basic information
Thanks to the Ministry of Foreign Affairs in the Republic of Uzbekistan, the process of obtaining a visa is now easier than ever before. An electronic visa to Uzbekistan allows its holders to stay in the Republic of Uzbekistan for 30 days.
You can choose between three visa types that differ in the number of entries permitted within the validity period.
Make an online application at least 3 business days in advance and receive your Uzbekistan e-Visa at your e-mail address in a PDF form.
Check if you meet the visa requirements to apply online for this entry visa available in three variations. Make sure to provide your data and collect the necessary valid documents to make your application successful.
Uzbekistan e-Visa types
Travelers from the eligible countries may apply from home or any other place using any working device with an internet connection.
See what are the Uzbekistan visa types to choose the one that will be the most appropriate for your trip to the Republic of Uzbekistan.
Every traveler can select one of the following Uzbekistan visa types:
No matter what type should you choose, the visa stays effective for 90 days (three months) from the date of issue. Ensure to use it within the three-month validity period.
List of eligible countries
Check below if you are eligible to apply online for an Uzbekistan e-Visa:
Aland Islands
Albania
American Samoa
Andorra
Argentina
Aruba
Australia
Austria
Belarus
Belgium
Bhutan
Bolivia
Bosnia and Herzegovina
Bouvet Island
Brazil
Brunei
Bulgaria
Burundi
Cambodia
Canada
Cape Verde Islands
Chile
Christmas Island
Coconut Islands
Colombia
Comoros
Congo, Democratic Republic
Congo, Republic (Brazzaville)
Cook Islands
Costa Rica
Croatia
Cuba
Czech Republic
Denmark
Germany
Dominican Republic
Djibouti
Ecuador
El Salvador
Eritrea
Estonia
Faroe Islands
Finland
France
French Guiana
French Polynesia
French Southern Territories
Georgia
Ghana
Greece
Greenland
Great Britain (UK)
Guam
Guatemala
Guiana
Heard and McDonald Islands
Honduras
Hungary
Israel
Italy
Japan
Kazakhstan
Laos
Latvia
Liechtenstein
Lithuania
Luxembourg
Madagascar
Martinique
Mayotte
Macedonia
Mexico
Micronesia
Moldova
Monaco
Mongolia
Myanmar
New Caledonia
New Zealand
Netherlands
Netherlands Antilles
Northern Mariana Islands
Norway
Palau
Panama
Paraguay
Peru
Poland
Portugal
Puerto Rico
Russia
Rwanda
San Marino
Smaller remote islands of the United States
Sweden
Switzerland
Slovakia
Slovenia
Spain
Svalbard and Jan Mayen Islands
St Thomas and Principe
South Georgia and the South Sandwich Islands
South Korea
Suriname
Territorial community of Saint Pierre and Miquelon
Thailand
The area of the Wallis and Futuna Islands
Turkey
Ukraine
United Arab Emirates
United States of America
Uruguay
Vatican
Venezuela
Vietnam
Virgin Islands
Western Sahara
Should your country not be listed above, you will need to apply for a regular visa at an Uzbekistan Embassy.
Make sure to contact your nearest Embassy for detailed instructions on the application process.
Uzbekistan e-Visa application process
Apply online for the electronic visa at least 72 hours before your travel to Uzbekistan. Once you have selected the preferred visa type and prepared the essential documents described in the 'Visa requirements' section, choose the purpose of your travel using the left-hand side panel and start the application process by clicking on the 'Apply online' button.
Then, follow these steps to file your application and receive your entry permit quickly:
Please note! The final processing time may be extended and lies within the Uzbekistan government.
Uzbekistan visa validity
All three types of visas to stay in Uzbekistan are valid for 90 days (three months) from the date of issue. Make sure to enter Uzbekistan within the 90 days of validity and appropriately in advance of your visa expiry.
If you wish to stay in Uzbekistan for 30 days, make your entry into Uzbekistan around the 60th day of visa validity to be able to stay for a whole month before your permit expires.
Please note! Every traveler going to Uzbekistan must have a travel document, i.e., a passport that will stay valid for at least 6 months from the planned date of entry to Uzbekistan.
Transit information
Whenever you transit through Uzbekistan to another country, it is obligatory to apply for an electronic visa to Uzbekistan.
The best option would be using the double-entry permit valid for 90 days to use it for two entries to Uzbekistan. The first time on your way to your destination country and on your way back home when you will have to cross the Uzbekistan border once again.
Make sure to have a valid passport as well.
Requirements on arrival
The entry rules when visiting Uzbekistan are simple; all the travelers need are two important documents. Make sure to have with you the following documents upon arrival in Uzbekistan:
Uzbekistan e-Visa Sample
For the convenience of all travelers, we have attached the Uzbekistan e-Visa sample below. Find out how the approved document looks like!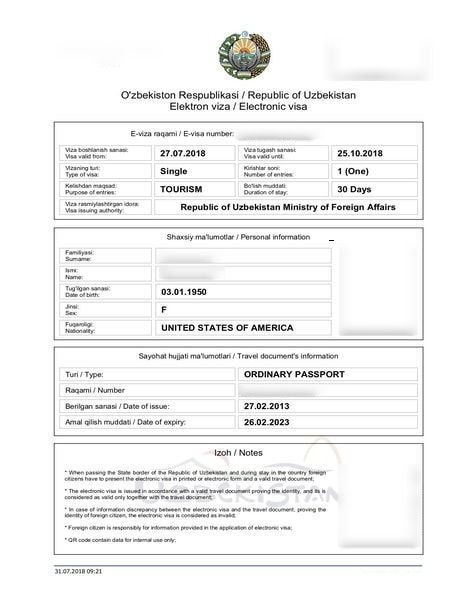 a single-entry visa: allows one 30-day stay in Uzbekistan
a double-entry visa: enables two visits within the validity period, one month total spent in Uzbekistan
a multiple-entry visa: designed for numerous visits in Uzbekistan; however, the total amount of days spent in the country is 30

Put your data carefully in the visa application form. Provide your name, surname, address, passport information, e-mail address, and other necessary information in the form. Make sure everything is correct and move on to the next step.
Pay the Uzbekistan visa fees and check your e-mail address for the visa confirmation number.
e-Visa will be approved and delivered to your e-mail box within 3 business days.

a valid passport that will not expire for the next 6 months starting from the date of arrival in Uzbekistan
a printed copy of the valid visa to Uzbekistan
Visa requirements
This section describes in detail what documents you should prepare prior to starting the application process online. Make sure that you have all of the essential documents and that the validity period is as requested.
To make your visa application be positively approved, attach the following documents:
a readable scan of your valid passport's bio-data page
applicant's photograph
a copy of the return ticket
Important information
applicants passports must stay valid for at least 6 months beyond the planned arrival in Uzbekistan date
every traveler that wishes to visit Uzbekistan must have a separate visa
should you need to transit through Uzbekistan, a visa is required
the customs officials will check if each traveler has a printed e-Visa copy and a valid passport
visa to Uzbekistan expires after 90 days from the date of issue
business-related activities are not allowed for e-Visa holders
filling the form with correct data may save you from delays or issues with approval
Benefits of Evisa Express
Easy application process

There are three easy steps to get your eVisa to Uzbekistan. Any issues during the application process can be addressed by contacting our support staff

Qualified team of experts

A qualified team oversees the processing of each and every application

Guarantee of service

If an application is unable to be processed, reimbursement is provided according to the conditions set out by our Terms of Service
Evisa Express is an independent company that offers efficient and professional assistance in obtaining visas. We are not associated with any governmental agency. See Privacy Policy and Terms of Service.
average application processing time
FAQ about the Uzbekistan e-Visa
Three easy steps to get your eVisa
Apply online

Fill out basic information on your citizenship and purpose for travel

Fill out remaining required information and make online payment

We accept both credit and debit cards and other convenient methods of payment.

Check your email

Once your payment is confirmed, the eVisa will be sent to the email address you provided on your application
Get help
or send inquiry: