Uganda e-Visa Application
Uganda e-Visa Information
The Uganda e-Visa is an electronic visa introduced in 2016 by the Government of Uganda to facilitate the visa application process for foreign nationals.
The e-Visa system enables citizens from selected countries to apply for their visas for entry into Uganda online without physically visiting a Ugandan Embassy or any other diplomatic mission.
The Uganda e-Visa allows its holders to stay within the country for 90 days and comes in three different types; a single-entry visa, a multiple-entry visa (that allows entrance to Kenya and Rwanda as well), and a transit visa. The transit visa is the only exception and allows a 7-day visit.
Applicants must follow a simple 3-step online process that takes minutes to complete to receive the approved e-Visa to Uganda at their email address.
Uganda e-Visa types
All applicants who have a valid passport and meet all requirements may travel to Uganda with 3 different types of electronic visas. See the available options (described in detail below) to choose the one that will be the best for your needs.
Here are the Uganda online visa types that can be used for tourism, business, and transit purposes:
a single-entry e-Visa: enables its holders to stay in Uganda for 90 days (three months) and allows one entrance into the country for business, tourism, or medical reasons.
East Africa Online Visa: serves as a multiple-entry permit and stays effective for 90 days from the date of arrival in Uganda. Should you select this e-Visa type, you will be able to visit not only Uganda but also Rwanda and Kenya! Moreover, numerous visits are available when choosing the East Africa type.
a transit e-Visa: designed for every traveler who needs to transit through Uganda to any other country. This online visa type can be used for transit purposes only and allows a 7-day stay in Uganda.
Reminder! The requirements may differ between the online visa to Uganda types available. See what documents do you need to prepare for the e-Visa type you have selected. Make sure to have all of the necessary documents ready while applying to ensure successful approval.
List of eligible countries
See if your country is listed below to check if you're eligible to make an e-Visa to Uganda application:
Afghanistan
Albania
Algeria
American Samoa
Andorra
Anguilla (UK)
Argentina
Armenia
Aruba (NL)
Australia
Austria
Azerbaijan
Bahrain
Bangladesh
Belarus
Belgium
Benin
Bermuda (UK)
Bhutan
Bolivia
Bosnia and Herzegovina
Brazil
Brunei
Bulgaria
Burkina Faso
Cambodia
Cameroon
Canada
Cape Verde
Cayman Islands (UK)
Central African Republic
Chad
Chile
China
Colombia
Congo
Cook Islands (UK)
Costa Rica
Croatia
Cuba
Czech Republic
Denmark
Djibouti
Dominica
Dominican Republic
Ecuador
Egypt
El Salvador
Equatorial Guinea
Estonia
Ethiopia
Falkland Islands (Malvinas) (UK)
Finland
France
French Guiana (FR)
French Polynesia (FR)
Gabon
Georgia
Germany
Gibraltar (UK)
Greece
Greenland (DK)
Guadeloupe (FR)
Guam (US)
Guatemala
Guinea
Guinea-Bissau
Guyana
Haiti
Honduras
Hong Kong (SAR)
Hungary
Iceland
India
Indonesia
Iran
Iraq
Israel
Italy
Japan
Jordan
Kazakhstan
Kiribati
Kuwait
Kyrgyzstan
Laos
Latvia
Lebanon
Liberia
Libya
Liechtenstein
Lithuania
Luxembourg
Macau (SAR)
Maldives
Mali
Marshall Islands
Martinique (FR)
Mauritania
Mayotte (FR)
Mexico
Micronesia
Moldova
Monaco
Mongolia
Montenegro
Montserrat (UK)
Morocco
Mozambique
Myanmar (Burma)
Namibia
Nauru
Nepal
Netherlands
Netherlands Antilles (NL)
New Caledonia
New Zealand
Nicaragua
Niger
Nigeria
Northern Mariana Islands
Norway
Oman
Pakistan
Palau
Palestinian Territories
Panama
Papua New Guinea
Paraguay
Peru
Philippines
Poland
Portugal
Puerto Rico (US)
Qatar
Reunion (FR)
Romania
Russian Federation
Saint Kitts and Nevis
Saint Lucia
Samoa
San Marino
Sao Tome and Principe
Saudi Arabia
Senegal
Serbia
Seychelles
Sierra Leone
Singapore
Sint Maarten (FR/NL)
Slovakia
Slovenia
Somalia
South Africa
South Sudan
Spain
Sri Lanka
Sudan
Suriname
Sweden
Switzerland
Syria
Taiwan
Tajikistan
Thailand
Togo
Tunisia
Turkey
Turkmenistan
Turks and Caicos Islands (UK)
Tuvalu
U.S. Virgin Islands (US)
Ukraine
United Arab Emirates
United Kingdom
United States of America
Uruguay
Uzbekistan
Venezuela
Vietnam
Western Sahara
Yemen
Is your country not listed above? In that case, you will need to obtain a regular visa at the Embassy.
Uganda e-Visa application form
How to apply online? Luckily, it could not be more simple. All you have to do is use the panel located on this website's left-hand side and select the e-Visa type you want to apply for, then click the 'Apply Online' button and start the actual application process.
Citizens of the eligible countries should then:
Put all of the required data and travel information in the online application form. Use the passport information pages to provide the necessary data. Attach the supporting documents and make sure that your application does not contain any errors.
Pay the handling electronic visa fee (99 Euro or 149 Euro). Applicants can use their credit card/debit card, PayPal, PayU, or any other method of online payment that is available on our website.
Within 72 hours (3 business days), an e-Visa in PDF form will be delivered to your email address. Once your entry permits gets approved, make sure to print it out and take it with you to the airport.
Please note! Our support team is available to you throughout each step of the application procedure. Should you have any questions, doubts, or concerns, do not hesitate to contact us via email or phone.
Validity period
Single-entry (only Uganda) and multiple-entry permits (the East Africa region) are both valid for 90 days (three months) from the date of entering Uganda.
The online transit visa stays effective for 7 days and allows its holders to visit Uganda only for transit purposes. The validity period starts on the date of arrival.
The most essential condition for all travelers to meet is for their passport to be valid for at least 6 months. The 180 days of passport validity should extend beyond the date of arrival in Uganda.
Transit information
If you want to leave the airport's transit zone, you need to apply for an online transit visa first. This electronic visa type allows its holders to stay in Uganda for 7 days.
See what are the obligatory supporting documents to attach for the transit e-Visa application form, and apply online at least 3 business days in advance of your travel.
Requirements on arrival
All travelers that are citizens of countries listed as eligible for an e-Visa need only two essential documents that will be checked by the customs officials upon arrival.
Prepare the supporting documents to make a successful application, once your online visa is approved and delivered to your email, print it out.
The customs officials will check if each traveler has the following:
a printed copy of the valid e-Visa to Uganda
a valid passport (that cannot expire for the next six months starting from the planned arrival date)
Ports accepting e-Visas
You can enter Uganda through any point of entry from the ones listed below. Make sure to plan your trip to Uganda so as to cross the border using any port of entry listed in this section.
All e-Visa to Uganda holders may use the following border crossing points:
Busia
Cyanika
Elegu
Entebbe
Goli
Gulu
Jinja
Katuna
Mirama
Malaba
Mbale
Mbarara
Mogadishu
Mpodwe
Vurra
When you enter Uganda, the customs officials will check if you have a printed copy of the valid online visa to Uganda and a valid passport. Then, all travelers receive a stamp on their passport, and their fingerprints are taken as well.
What are the Uganda e-Visa fees?
Uganda e-Visa fees are 99 Euro and 149 Euro for the East Afrcia travel authorization. All applicants have several secure online payment methods to choose from to cover the Uganda e-Visa fees.
Uganda e-Visa Sample
Please find below theUganda e-Visa sample to get an idea of how this entry permit may look like while waiting for approval. The electronic visa will be delivered directly to your email box in form of a PDF file.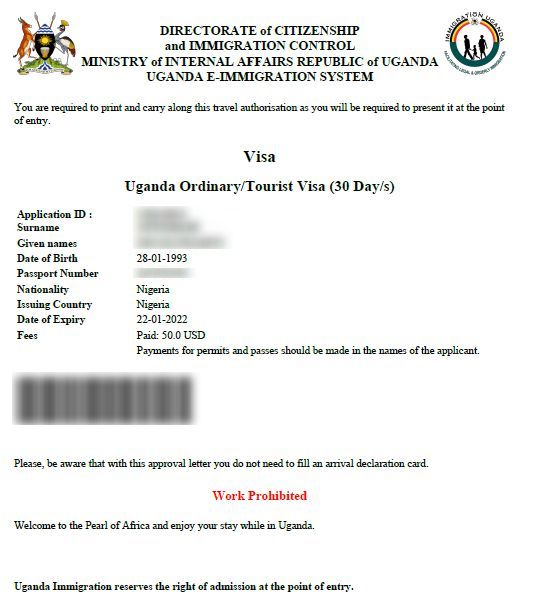 Required Documents
An online visa to enter Uganda is necessary to have upon crossing the border. Make sure to be prepared with the specified documents before starting the e-Visa application process.
Each electronic visa to Uganda type has different requirements for travelers to meet. Choose the preferred type from the three ones available and start collecting the essential documents.
Single-entry e-Visa to Uganda

Each applicant who wishes to make an online visa application for the single-entry permit to Uganda should have the following:

a photo of the valid passport's bio-data page
applicant's face photograph (that can easily be taken with your phone or a PC camera)
a photo of the yellow fever vaccination certificate

Transit e-Visa

To be able to transit through Uganda to another country and successfully apply for the transit visa online, every traveler should attach these documents to their application:

a photo of the bio-data page from the applicant's passport
the applicant's face photo (that can be in digital form, taken with either a phone or a PC camera)
proof of having done the yellow fever vaccination
a photo of the booked flight ticket that enables further journey

East Africa Online Visa

To apply online for the East Africa Visa, please prepare:

a photo of the valid passport's bio-data page
applicant's face photograph (can be taken using a phone or a PC camera)
proof of having the certificate stating the yellow fever vaccination has been done by the applicant
travel itinerary
a photo of the return ticket

Please note! Another necessary condition to meet for all travelers who wish to visit Uganda is for their passports to stay valid for at least 6 months, starting from the planned date of arrival.
Important Information
All applicants need to meet the requirements described earlier to ensure the positive e-Visa approval
Apply at least 3 business days in advance of your Uganda travel
Every traveler that has an approved electronic visa to Uganda needs to print it out and show it at the airport to the customs officials
Your online visa can be extended using an official Uganda government website
The electronic visa to Uganda is not a working permit
e-Visa validity period starts on the intended date of arrival in Uganda (not on the date of issue)
All applicants can choose between several online payment methods available on our website to cover the fees
Benefits of Evisa Express
Easy application process

There are three easy steps to get your e-Visa to Uganda. Any issues during the application process can be addressed by contacting our support team

Qualified team of experts

A qualified team oversees the processing of every application

Guarantee of service

If an application is unable to be processed, reimbursement is provided according to the conditions set out by our Terms of Service
Evisa Express is an independent company that offers efficient and professional assistance in obtaining visas online. We are not associated with any governmental agency. See Privacy Policy and Terms of Service.
FAQ about the Uganda e-Visa
Three easy steps to get your e-Visa
Apply online

Fill out basic information on your citizenship and purpose for travel

Fill out the remaining required information and make an online payment

We accept both credit and debit cards and other convenient methods of payment.

Check your email

Once your payment is confirmed, the e-Visa will be sent to the email address provided in your application.