eTA New Zealand Application
New Zealand eTA Basic Information
New Zealand eTA is an Electronic Travel Authority system that was implemented in July 2019. It allows eligible travelers to get an eVisa to New Zealand entirely online within a few days of the planned trip.
The New Zealand eTA is a multiple-entry eVisa that allows all eligible travelers to visit New Zealand for tourism, business, and transit-related purposes. Each stay with NZeTA can be as long as three months while the issued travel authorization stays valid for 2 years.
The Electronic Travel Authorization to New Zealand for airline and cruise crew members stays effective for 5 years from issuing.
Citizens from eligible countries can apply following a quick 3-step NZeTA application process online that consists of filling the form, covering the issuing fee, and waiting for approval.
Approved electronic visa to New Zealand is then delivered to each applicant via email in PDF form.
Travelers can now apply online for NZeTA following a simple 3-step process with our support team's complete assistance using any working device and visit New Zealand for up to 3 months!
New Zealand eTA types
The New Zealand government offers one eTA type for tourists:
a multiple-entry permit for stays of up to three months at a time.
Electronic Travel Authority stays valid for 2 years from the online visa issue date.
Please note! All UK citizens can stay in New Zealand for up to 6 months at a time.
NZeTA application form
All applicants can use their phone, laptop, PC, or even a tablet to submit the online visa form. Prepare your valid passport and start the application process by choosing your travel purpose using the panel on the left.
Click the 'Apply online' button and provide the following required data:
name and surname
travel details
birth date
email address
nationality
passport details
Cover the 99 EUR eVisa fee using your credit/debit card, PayPal account, PayU, or any other method of online payment choosing from several available.
Next, check if you have received the confirmation number and wait for your approved eTA to New Zealand to arrive at your email address in PDF form.
The applications are processed in a few days; however, theaverage time of approval is just 23 hours!
Validity period
The New Zealand Electronic Travel Authority stays effective for 2 years from the online visa issue date.
Please note! Every traveler must have a passport that will not expire for at least 3 months from the planned date of leaving New Zealand.
Transit information
Transiting through New Zealand requires having an NZeTA as well. Check if your country is listed as eligible and apply for your elecronic visa online to reach any final destination going through the island.
Make sure to have a valid passport and submit the online application at least 3 business days in advance of your trip.
Requirements on arrival
Every traveler visiting New Zealand must have two required documents upon their arrival:
a passport valid for at least 3 months from the planned departure from New Zealand
a printed New Zealand eTA copy
List of eligible countries
The following countries can make an online application and receive an eTA for New Zealand at their email address:
Andorra
Argentina
Austria
Bahrain
Belgium
Brazil
Brunei
Bulgaria
Canada
Chile
Croatia
Cyprus
Czech Republic
Denmark
Estonia (citizens only)
Finland
France
Germany
Greece
Hong Kong SAR
Hungary
Iceland
Ireland
Israel
Italy
Japan
Korea (South)
Kuwait
Latvia (citizens only)
Liechtenstein
Lithuania
Luxembourg
Macau
Malaysia
Malta
Mauritius
Mexico
Monaco
Netherlands
Norway
Oman
Poland
Portugal
Qatar
Romania
San Marino
Saudi Arabia
Seychelles
Singapore
Slovakia
Slovenia
Spain
Sweden
Switzerland
Taiwan
United Arab Emirates
United Kingdom
USA – including US Nationals
Uruguay
Vatican
Please note! UK citizens can stay in New Zealand for up to 6 months (180 days) at a time.
New Zealand eTA Sample
Most applications are approved within 23 hours! Please find theNew Zealand eTA sample below to get further information on this entry permit while waiting for yours to be processed.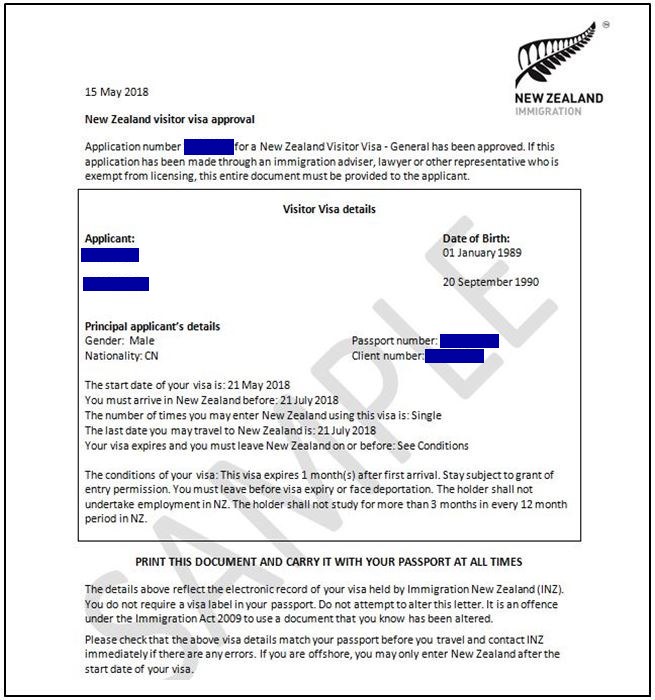 Required Documents
New Zealand eTA requirements are elementary, as the only document applicants need is a valid passport. You will be asked to upload the bio-data passport page digital copy.
Make sure that your travel document has at least 3 months validity, starting from the planned date of leaving New Zealand, and apply for your visa online.
Additionally, please attach the applicant's digital face photo.
It can be taken using your phone or a PC camera, since our visa experts' team adjusts the size of the received files
Important Information
eTA New Zealand is not a working permit
applications must be made at least 3 business days in advance of traveling
every applicant must have a passport with a minimum validity of 3 months from the date of leaving New Zealand
eTA for New Zealand serves for purposes of tourism, business, and transit
the electronic visa for New Zealand stays valid for 2 years
each stay can be as long as 3 months
the applicant's digital face photo can be taken using a phone or a PC camera
our support team is available to all applicants via email and phone
Benefits of Evisa Express
Easy application process

There are three easy steps to get your eTA for New Zealand. Any issues during the application process can be addressed by contacting our support team.

Qualified team of experts

A qualified team double-checks each application to ensure successful approval.

Guarantee of service

If an application is unable to be processed, reimbursement is provided according to the conditions set out by our Terms of Service.
Evisa Express is an independent company that offers efficient and professional assistance in obtaining visas. We are not associated with any governmental agency. See Privacy Policy and Terms of Service.
Successfully approved applications
FAQ about the New Zealand eTA
Three easy steps to get your NZeTA
Apply online

Fill out basic information on your citizenship and purpose for travel.

Fill out the remaining required information and make an online payment

We accept both credit and debit cards and other convenient methods of payment.

Check your email

Once your payment is confirmed, the eVisa will be sent to the email address provided in your application.